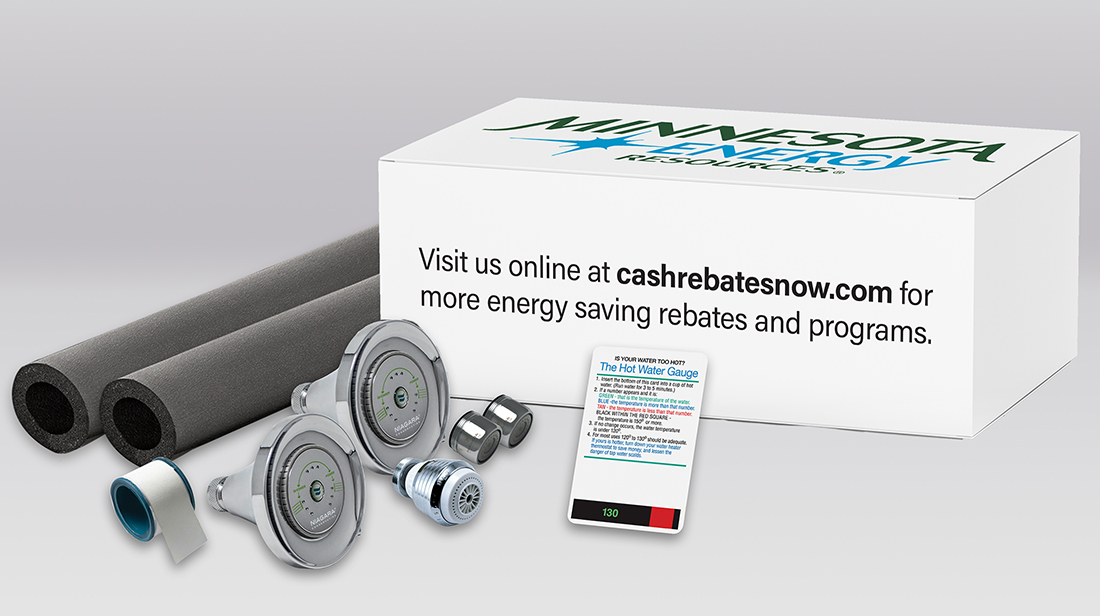 Minnesota Energy Resources customers can celebrate World Water Day on March 22 by ordering a free water conservation kit. Conserving water is good for customers because it saves money and is good for the environment, because we're taking less water out of our prized rivers and lakes.
What is a water conservation kit?
Water conservation kits are an easy way to conserve water and the amount of natural gas used in your home. The kits are free to customers with a natural gas-fueled water heater and include:
A water temperature card to test if you should dial back the temperature of your water heater.
Showerhead and faucet aerators to reduce the amount of water you use, helping to reduce the amount of water you heat.
Pipe insulation, which helps reduce heat loss further allowing you to reduce your water heater temperature setting.
Residents have the choice of two different kits, depending on their home's needs. All the items in the kit are simple to install, so you can begin conserving water and energy quickly and effortlessly, even if you do not dramatically alter your water usage habits.
Why does saving water matter?
Conserving water not only helps you save money, but also reduces strain on the environment by diverting less water from rivers and other freshwater sources. Natural water sources at or near their optimal level, keeps wildlife healthy, and ensures a reservoir for safe future drinking water. Reducing water usage also results in lower wastewater treatment costs and that conserves the energy needed to treat, pump and heat water.
Whether you are a hiker, hunter, boater, camper or just someone who enjoys Minnesota's natural beauty, installing a free water kit is a small, easy way you can help preserve our treasured water resources.
How does saving water help lower your natural gas bill?
Water heating is typically the second-largest use of natural gas in a home. The less hot water you use, the more energy you save, which means lower monthly bills.
Installing all the components in the free kit can save you up to $33 per year in natural gas costs alone.
You can save even more by:
Fixing leaky faucets
Taking shorter showers
Running the dishwasher only when full
Using cold water for laundry
Ordering your free water conservation kit is quick and easy
Simply visit the free water conservation kit page and follow the on-screen instructions. Be sure to have your account number handy and double-check that you meet the eligibility requirements:
Water heater must be fueled by natural gas.
You must be a Minnesota Energy Resources residential customer with an existing account.
New construction homes are not eligible.
Households may receive one kit every 10 years.
If you prefer to order by phone, you can call 866-872-0052 and select Option 1, Monday through Friday, 9 a.m. to 5 p.m.
After signing up, you can expect to receive your kit delivered directly to your home in four to six weeks. Printed instructions on how to install the kits are included with delivery, or you can view our installation video.
From everybody at Minnesota Energy Resources, we wish you a happy World Water Day, and we hope you are able to join us in conserving water and energy for our shared future.
Minnesota Energy Resources is dedicated to conserving our natural resources, such as natural gas and water. We also offer rebates for upgrading to high-efficiency heating systems, Energy Star water heaters and appliances, and home insulation improvements. This makes it easy to conserve energy and ultimately save money. Find out more at cashrebatesnow.com.
* Program is subject to change or end any time without notice.